FULL TIME! GERMANY HAS WON THE 2017 FIFA CONFEDERATIONS CUP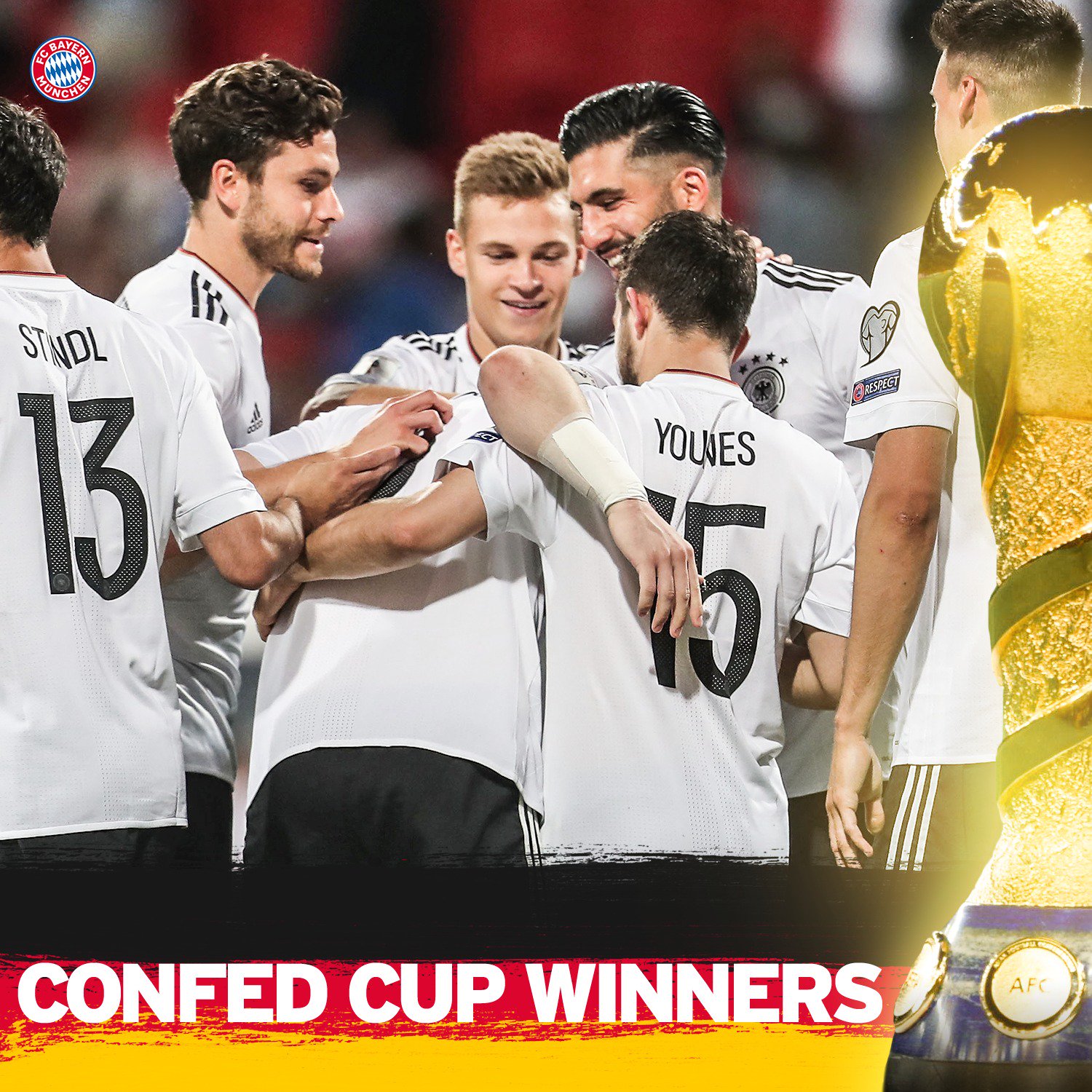 93′ Ginter fouls, close freekick for Chile. Alexis to take it. He hits it on his right AND WHAT A SAVE BY TER STEGEN!
91′ Bravo takes the freekick close to the halfway line, but he kicks it badly and it comes to nothing
91′ YC Rudy takes down a Chilean player
90′ 5 minutes of extra time
90′ SUB Goretzka goes off, here comes Sule
89′ YC Emre Can falls on top of the ball, he holds on to it as the Chileans try to grab it out between his legs. Can is booked for time wasting and Bravo is booked for unnecessary contact
87′ Germany are 5 on 4 deep in Chile's half! Kimmich with the cross from the right, but it's too high for Draxler
83′ ter Stegen dropps the ball, Puch finds Sagal, ter Stegen is nowhere near, he hits it! And it skies over, he misses the open goal!
80′ SUB Vargas makes way for Puch
79′ Aranguiz tries it from far away, ter Stegen puts a hand on it and concedes a corner
77′ SUB Emre Can comes on for Werner
75′ The Chilean corner is wasted, Germany are on the counter, Werner with a quick run with the ball on the left, tries to pass it but Jara intercepts it
74′ YC Vargas is booked for arguing with the ref
74′ Isla on the right, crosses it in. ter Stegen gets a hand on it but can't catch it, Alexis gets it on the other side. He's brought down in the box by Rudy, Vidal picks it up and hits it on his left! And it's deflected out for a corner
73′ A great pass to Vargas in the German box, he turns around and takes it on his right! And it's a good save by ter Stegen!
71′ Alexis with a good outside foot cross from the left, finds Vargas who stumbles on it, back to Alexis in the middle now, but Rudy puts in a fantastic tackle
69′ Germany take the kick short, Stindl gets it but is fouled by Beausejour. Another freekick for Germany
68′ The corner comes to nothing as Germany try to play it out. Goretzka is fouled.
68′ Vargas kicks the ball off of Mustafi, corner for Chile
66′ Hector swings the ball in, Rudiger gets it but can't do anything with it as Chile clear the ball
63′ YC Werner is elbowed in the face by Jara, the ref calls in the VAR. Gonzalo Jara gets a yellow. Freekick for Germany out wide on the left side.
57′ YC Bravo shoves into Kimmich, Vidal defends his Chilean teammate by pushing the German out of the way. The two Bayern players get a yellow card.
57′ Hector swings it in from the right side, couldn't find anyone. Goalkick.
56′ Beausejour fouls Kimmich, who goes down holding his leg. Freekick for Germany, they'll play with 10 men for now.
54′ Great attack by Germany, Draxler hits it on his right, but a great block by a Chilean defender. Corner.
52′ SUB Diaz off for Chile, makes way for Valencia
52′ Alexis with a great run, beats a few German defenders, plays a one-two with Vidal, tries to cross it in from the right but it goes out of play
51′ Vidal crosses it in from the right, tries to find Vargas but Mustafi heads it away
49′ Great ball to Draxler on the left, he tries to cut in but Isla tackles him well
47′ Draxler intercepts a pass on the left, finds Stindl in the middle who is pushed cleanly off the ball
45′ The players come out of the tunnel. Can Chile find a way back into the game, or will Germany's young team take home the win?
HALF TIME Germany lead by a goal, thanks to Lars Stindl
44′ It's a terrible giveaway to Draxler, who finds Goretzka on the left and takes the shot! And it's a good save by Bravo, corner.
39′ Werner on the left wing, finds Draxler in the middle who tries a shot on his right! And it's just wide.
37′ Germany with a great counter, they're 4 on 3. Goretzka with a good pass to find Werner, but it's a heavy touch deflected of off a Chilean player. Corner.
35′ Rudy with a great pass to Goretzka on the right side, he takes it on his right side but it's just past the post. What a chance missed!
34′ Another corner for Chile. Aranguiz takes it, but it's over the head of Vidal and out of the Germany box
33′ Aranguiz shields the ball from Draxler, but gets kicked in the shin. Freekick for Chile in their own half
31′ Vidal has the ball outside of the Germany box, hits it on his right but it's way over the bar
28′ Alexis crosses it in from the right, but it's too high for Diaz
24′ Draxler with a great run on the left side in Chile's half, but Medel dispossess him with a great tackle
23′ Isla with a great short cross to Aranguiz, but he misses the ball. Goalkick for Germany
19′ GOAL!! Diaz loses the ball right outside of his box to Werner, finds Stindl who taps it into the back of the net! 1-0
18′ Freekick, kicked short to Alexis who finds Diaz, great backheel to Isla who misses it. Goalkick
14′ Draxler takes the corner, finds Mustafi, but the header is high
13′ Germany on a great counter, Stindl crosses it from the right, but Aranguiz heads it away. Corner.
11′ Goretzka with a bad pass, Hernandez takes it away from him and tries a shot, but ter Stegen catches it
10′ ter Stegen takes a short goal kick, which is intercepted by the Chilean team. Alexis Sanchez tries to take the shot, but Mustafi puts it out of play for a corner
10′ Alexis finds Vargas who takes the shot on the half-volley, and it's over the post
7′ Vidal takes a shot from right outside of the box, but it's just wide of the goal
3′ Aranguiz finds Vargas on the left side, plays a one-two back to Aranguiz who tries to get it back to Vargas but he's offside
KICK OFF! The Confed Cup final begins
Live Polls
LINE-UPS